Background Tiler

Dirbaio's Background Tiler is a tool used to convert .png files to .nmb files (level backgrounds) to be imported into the NSMBe. It often does a better job than the editor's built-in converter does while still using 320 tiles. Since NSMBe may still give better results, it is recommended to try converting your backgrounds with both tool to see which one works the best. The tool also has a GPL license.

The forum thread can be found here.


1. Downloads
2. Screenshots
A comparison between the NSMBe's built-in tiler vs.

Dirbaio's Background Tiler:


Additionally, here's what the application looks like: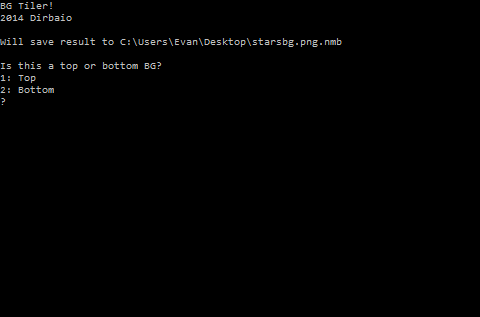 3. Instructions
Download the Tiler.
Drag .png file into tiler.exe.
Type in 1 for a top background and 2 for a bottom background.
You're done! A <imagename>.png.nmb will show up where the initial .png image was, and an additional <imagename>.tiled.png as a preview as to what it will look like.